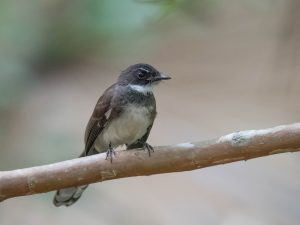 Back in Bishan-AMK Park, the Singapore Birds Project held a second guided walk for members of the Biodiversity Friends Forum (BFF). As part of the Biodiversity Roundtable, BFF aims to provide opportunities for members of the nature community to take action and learn about Singapore's biodiversity.
On 22 May 2022, led by Movin, Sandra and Zachary, our group of eager birdwatchers set off. While the walk was not conducted during the migratory season, it provided us with an opportunity to focus on resident birds that we often overlook. Here are some noteworthy sightings on our walk!
The walk started with a flash of colour. A Stork-billed Kingfisher flew past gracefully, before perching out of sight. As Singapore's largest resident kingfisher, this charismatic bird was an excellent introduction to the wealth of avifauna found in Singapore.
As the Red-breasted and Rose-ringed Parakeets chattered up in the sky, a female Common Flameback flew across our path while uttering its distinctive and rapid call. This woodpecker is commonly seen in parkland habitat, like that of Bishan-AMK Park! Nearer to the waterway, a Purple Heron perched atop a tree. While many may associate the Purple Heron with the consumption of fish, herons are able to swallow small mammals – up to the size of a rabbit – whole.
The ever-present Black-naped Orioles and Common Ioras impressed participants with their repertoire of vocalisations. Not to be left out, pairs of Brown-throated Sunbirds and Ashy Tailorbirds chased each other in the trees.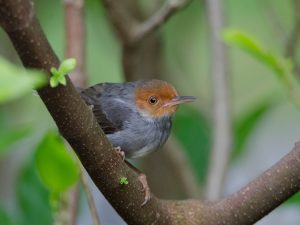 Blue-throated Bee-eaters and Pacific Swallows sallied from their perches to catch unsuspecting insects while a grumpy-looking Pacific Swallow juvenile sat and eagerly awaited its food. When the parent flew close, the juvenile took off, initiating food transfer in mid-air. Acrobatics!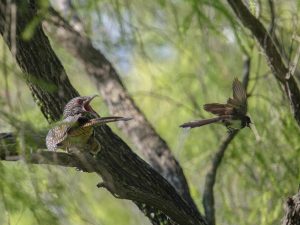 Wrapping up the walk, we observed a Asian Koel as it sat stoically, before getting ferociously attacked by a pair of territorial Malaysian Pied Fantails. Numbers proved to be too much for the koel to handle and it made a tactical retreat. A fantastic spectacle for us, not so much for the poor koel though.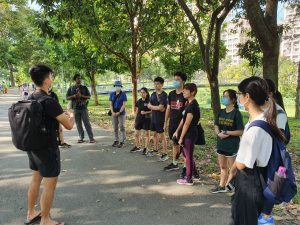 We would like to extend a huge thank you to all the participants for joining our guided walk and hope that you had a great morning birding with us. If you missed out on this walk, no worries! Do keep an eye out for future walks on our Facebook, Instagram and Twitter.
Acknowledgements
Thanks to the team for their comments on the article.