The first of many Singapore Birds Project Guided Walks was held at Bishan-Ang Mo Kio Park (BAMK Park) on 13 and 19 March 2022. Here are some highlights from the walk!
Soon after we set off at 8am, our safely distanced groups came across the most widely-recognized category of feathered friends – chickens! Most chickens found in Singapore are domestic chicken/Red Junglefowl hybrids, and their level of domestic introgression can be estimated by observing traits highlighted in Wu et al. (2020).
Just a few minutes later, a group spotted a Common Flameback up in one of the trees lining the path. As its name suggests, Common Flamebacks are one of the more common woodpeckers found in Singapore and are often heard before they're seen. Listen out for their raucous 'kik-kik-kik' call as they swoop from tree trunk to tree trunk.
The cacophony of loud screams also brought our groups' attention to the introduced Rose-ringed and Red-breasted Parakeets that have both comfortably made Singapore their additional home. As we were observing them, a White-throated Kingfisher swooped past us in hunt of prey, to the delight of our 6 and 9 year old participants.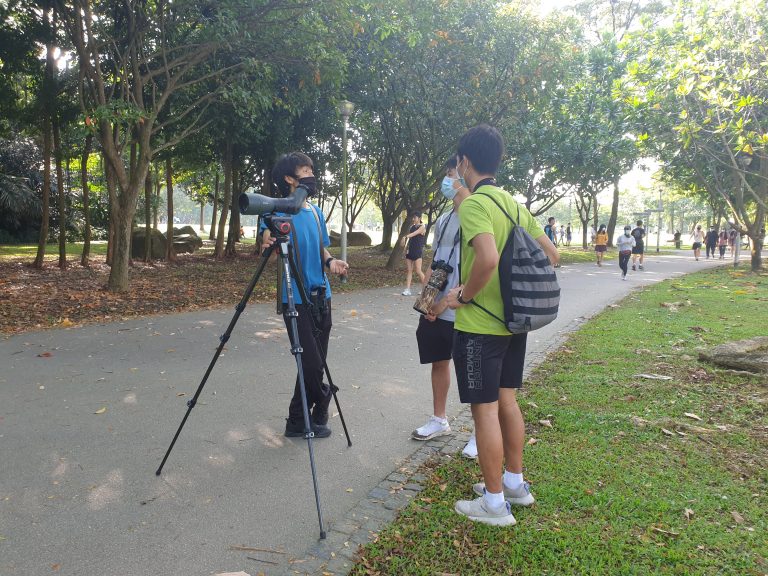 The wetland that replaced old concrete canals during the development of BAMK Park has provided some habitat for waterbirds. As we neared one of the main streams running along the length of BAMK Park, our keen-eyed participants spotted some Grey Herons, Purple Herons, a Chinese Pond Heron and two Javan Pond Herons. Herons are frequently found wading in longkangs and wetlands, and use their long, pointy beaks to expertly swipe fish from shallow bodies of water.
As we continued with our walk, spring was in the air, and we observed many pairs of residents such as the Common Ioras, Black-naped Orioles, Pied Trillers and Yellow-vented Bulbuls moving around in pairs at times, displaying courtship behaviour.

Not to be outdone, the winter migrants like the Pallas' Grasshopper Warblers were practicing their songs all along the meandering river in preparation to breed when they return to breeding grounds. Close to the end of our walk, we noted a group of fellow birders staking out a section of the river bank hoping to catch a glimpse of the elusive warbler.
Just before we ended our walk, Adrian's group was treated to an awesome observation up close. A Black-naped Oriole flew onto a tree trunk to pick off a huge caterpillar. The family of 4 were awed by the action happening 1.5 metres in front of them. The Oriole put up an excellent show as it flew up and perched just above the family. It started bashing the caterpillar and before gobbling it up all in view of our young participants and their parents. What a way to conclude an amazing morning!
Black-naped Oriole eating a caterpillar. Video: Adrian Silas Tay
Thank you to all the participants for joining our guided walk and we hope that you had a great morning birding with us. If you missed out on this walk, no worries! Do keep an eye out for future walks on our Facebook, Instagram and Twitter.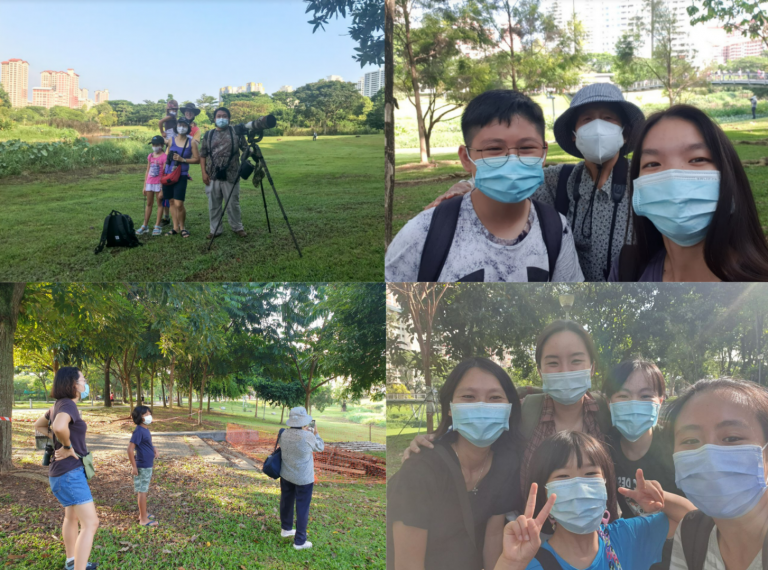 Acknowledgements
Thanks to the team and Jin Rong for their comments on the article.
References
Wu, M. Y., Low, G. W., Forcina, G., van Grouw, H., Lee, B. P. Y-H., Oh, R. R. Y. & Rheindt, F. E. (2020). Historic and modern genomes unveil a domestic introgression gradient in a wild red junglefowl population. Evolutionary Applications, 13, 9. Link.