The Bird Society of Singapore (BirdSoc SG) held its official Launch Event on 27 August 2023 at the Central Public Library. Featuring opening remarks from Dr. Shawn Lum, Senior Lecturer at the NTU Asian School of the Environment, as well as a series of talks from our founding members, our event was well-attended not only by senior figures from Singapore's leading nature groups and representatives from government agencies, but also by members of our local birding community.
We want to express our deepest thanks to all of you for contributing to our Singapore Birds Project journey in one way or another. If you've submitted a record to us, contributed photos for the Birds of Singapore (formerly Singapore Birds Project), or joined us for one of our events, you are part of the reason we can call ourselves a Society today, and we look forward to continuing our new chapter with all of you together. A total of 350 attendees celebrated this occasion with us, with 120 in person and 230 joining us online. If you missed it, the recording is available on YouTube.
---
Opening Remarks by Dr. Shawn Lum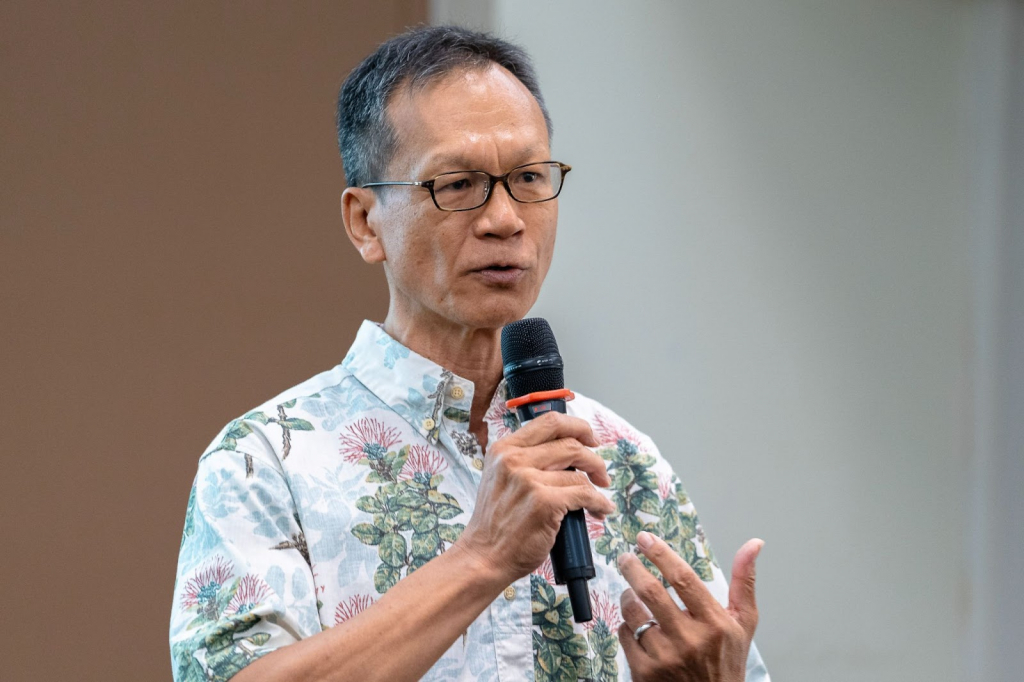 Dr. Shawn Lum is a Senior Lecturer at the NTU Asian School of the Environment, Immediate Past President of the Nature Society (Singapore), and recipient of the President's Award for the Environment in 2017. He shared his optimism on the formation of the Bird Society of Singapore, as well as his belief that our Society will not only be able to contribute meaningfully to conservation efforts, but also to develop civil society in Singapore more broadly. Discussing our efforts in the online space in publishing species writeups as well as the Singapore Bird Database, he hopes we will further extend this work into the physical space through advocacy.
---
Message from Dr. Yong Ding Li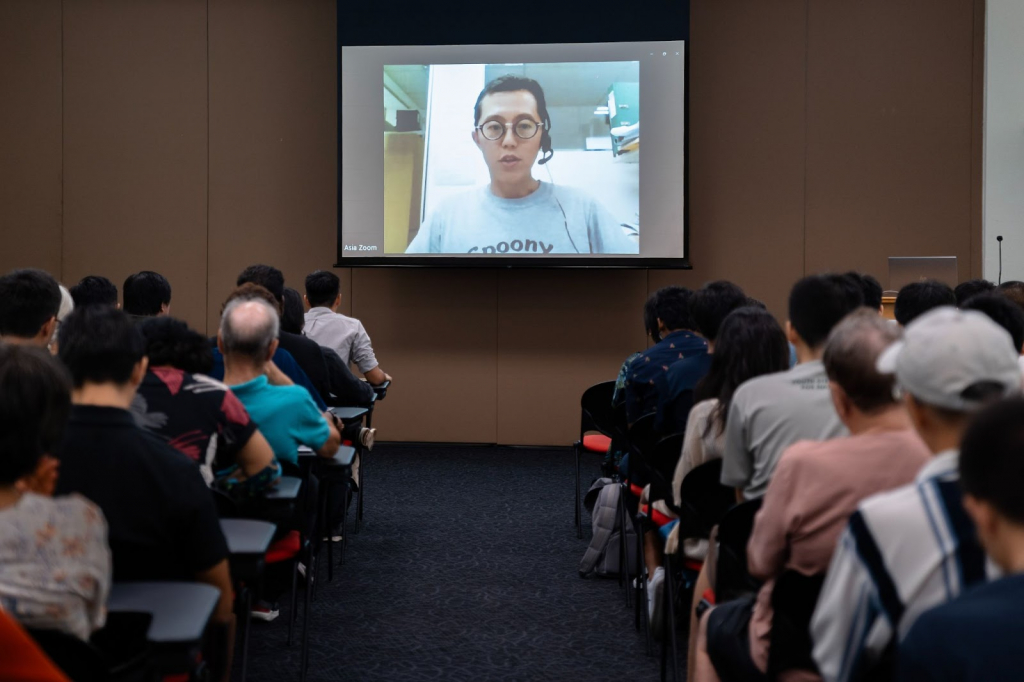 Dr. Yong Ding Li is Regional Coordinator at BirdLife International and recipient of the Early Career Conservationist Award in 2023. In a recorded message, Dr. Yong discussed his hope that the Bird Society of Singapore will contribute to existing efforts from other nature groups based in Singapore and elsewhere in the region.
---
Talks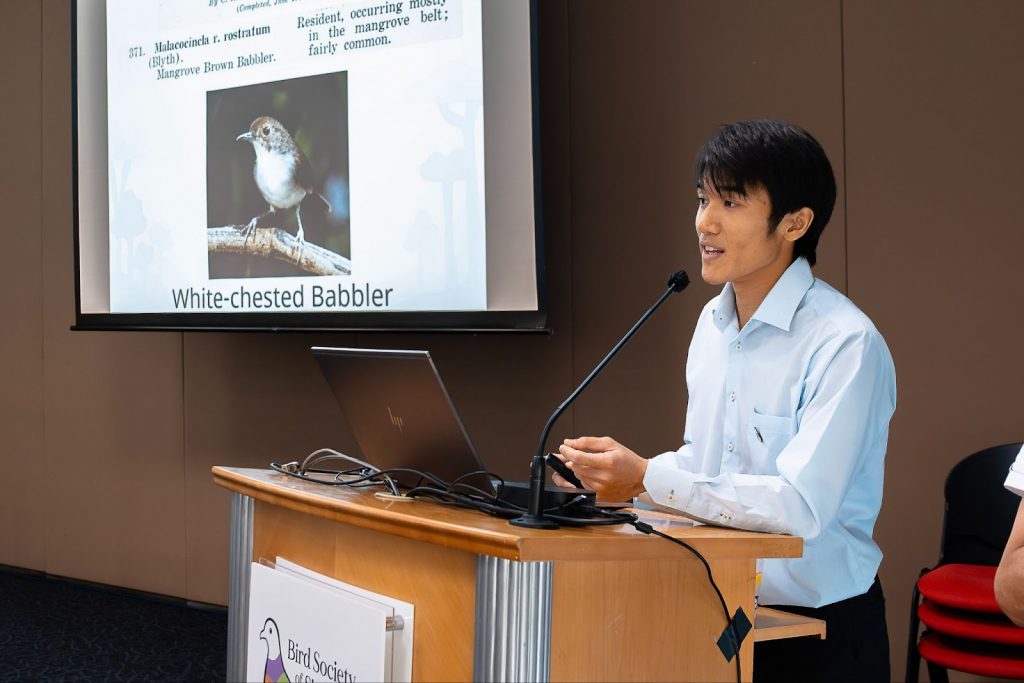 The Society's President, Keita, introduced his personal experience of how he got involved in birding (who knew a Stork-billed Kingfisher could be life-changing?), discovering a thriving community, learning more about birds, and eventually joining the core team of members at the Singapore Birds Project in 2021. Turning to our future as BirdSoc SG, he detailed our goals to contribute to science, advocate for conservation efforts, and empower the local birding community.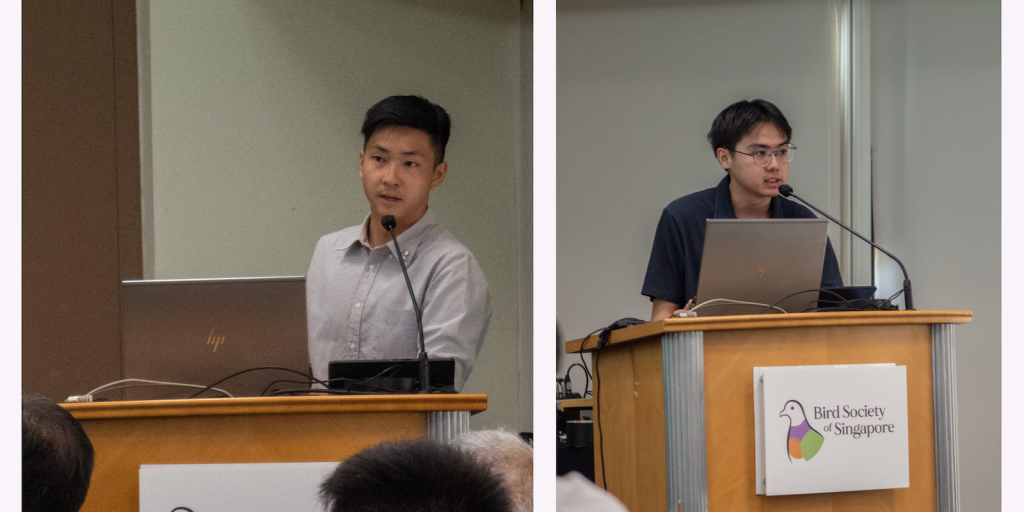 Next, we heard from Zachary, who sits on our Executive Committee as Outreach Officer and Jen Wei, who is part of the Singapore Bird Records Committee. They took us through the relevance of birds in our lives—in a traditional sense, from the perspective of our various cultural backgrounds, and in a modern sense, in our current birding community. Zachary shared the relevance of birds to the cultures of our different racial groups in Singapore, with references to historical artifacts and texts. Jen Wei addressed the explosion of interest towards birds among Singaporeans, as well as the changing natural landscapes in the nation. He also shared how BirdSoc SG fits into the local picture, through effective records-keeping, building awareness, and further multiplying the efforts of birders in Singapore to document our avifauna.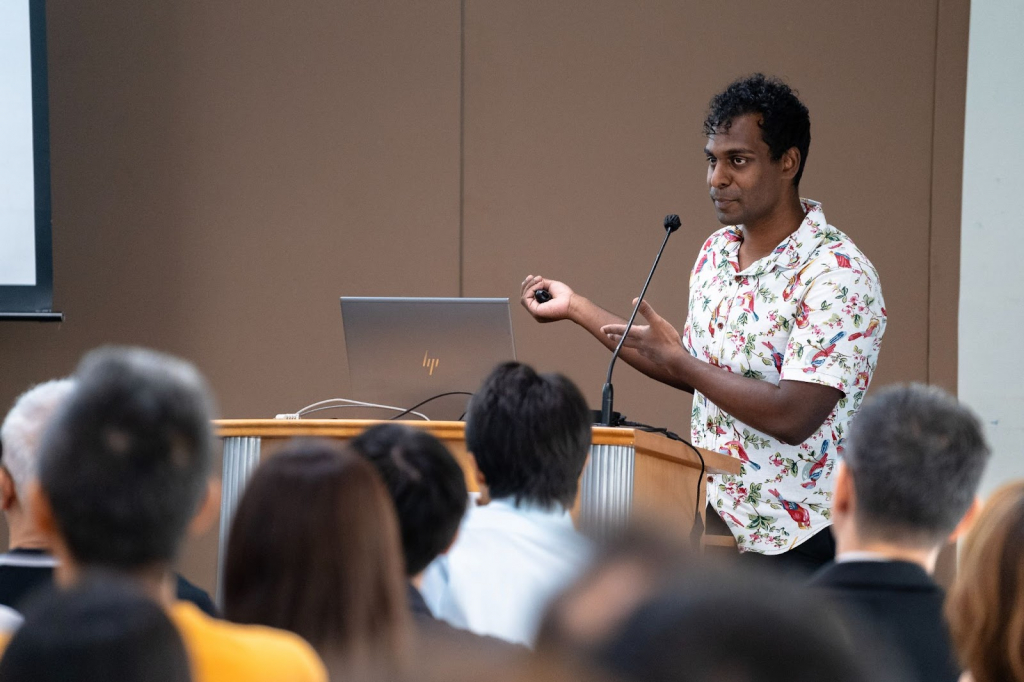 Our last presentation was from Movin, our Vice-President. His talk addressed the challenges facing birds in Singapore, focusing especially on areas where BirdSoc SG can provide its expertise to contribute to conservation. He also mentioned some areas where more research is required, such as the impacts of different non-native species on local biodiversity.
---
Key messages
As the Singapore Birds Project, we have successfully contributed to the local community through our online efforts, and we strive to expand our work as the Bird Society of Singapore. By registering as a Society, we demonstrate our commitment to our mission, as we now have a formal structure and defined membership. We believe that this will expand the scope of our collaborations with both government agencies and other research and conservation groups, as well as increase the legitimacy of our work.
The Bird Society of Singapore is always keen to work with more members of the community to extend our efforts further! While membership is not open to the public yet, please reach out to us if you would like to contribute to our work or collaborate with us.
---
What some of our guests had to say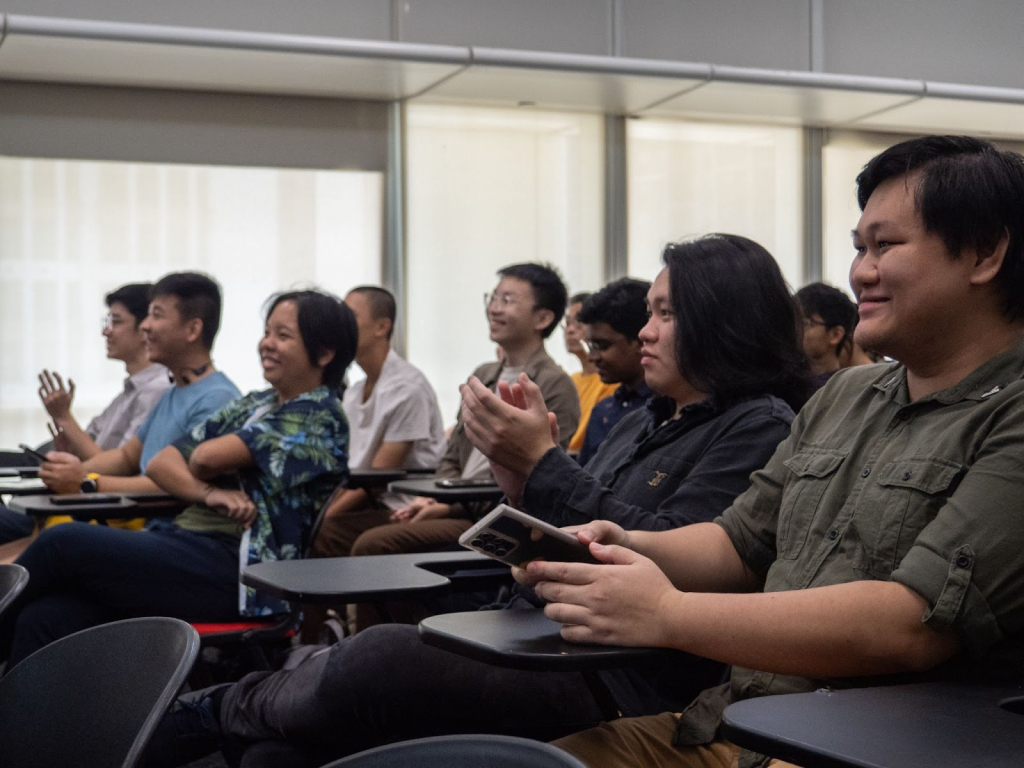 ---
Acknowledgments
We would like to acknowledge the following groups of people, without whom this event would not have been possible.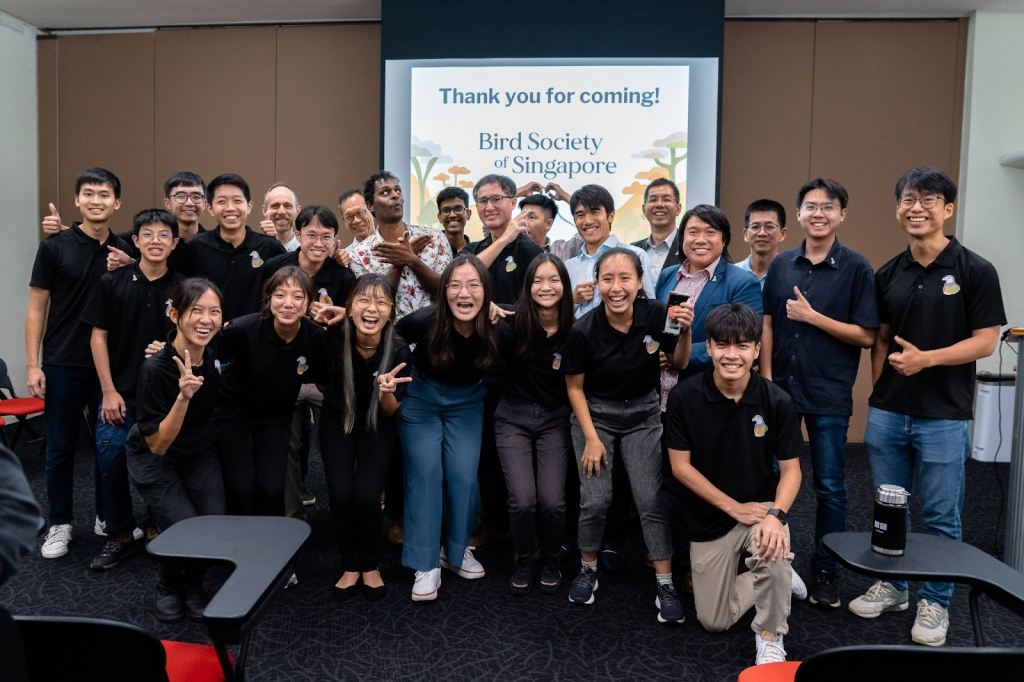 Bird Society of Singapore Launch Planning Committee
Keita Sin, Speaker for "President's Address"
Movin N, Launch Event Co-Coordinator, Speaker for "Bird Society of Singapore & Conservation"
Zachary Chong, Launch Event Co-Coordinator, Speaker for "Birds and Us"
Yip Jen Wei, Speaker for "Birds and Us"
Sandra Chia, Launch Event Co-Coordinator, Launch Logistics Lead
Raghav Narayanswamy, Launch Event Co-Coordinator, Launch AV/IT Lead
Goh Cheng Teng, Launch Emcee
Adrian Silas Tay, Launch Advisor
Dillen Ng, Launch Set-Up IC
Clarice Yan, Launch Registration IC
Tan Hui Zhen, Key Logo Designer
Geraldine Lee, Launch Registration
More information on the organisation's founding members and ExCo can be found here
Volunteers
Collin Chua, Online Q&A Moderator
Jeff Tan, Timekeeper, Usher
Emma Chao, Lead Designer
Kaeden Sim, Usher, Bird Fact and Bird Call Video Recorder/Designer
Evangelista Wan, Photographer
Lee Wee Meng, AV Volunteer
Jared Tan, Usher, AV Volunteer
Lim Qian Xun, Bird Fact Video Designer
Jayden Kang, Social Media Designer, Photographer
Sng Chen Xi, Launch Registration
Volunteer names are arranged in alphabetical order
Supported by

Venue Sponsorship
---
Full Launch Video
---
Thanks for your well wishes!
Charissa: Thank you for all the passion for our feathered friends!
Kes: Congratulations for your launch! Without you guys, I don't think I would have become a birder and experienced so many precious moments chasing after birds and meeting wonderful people. What you guys have done have really made a difference in people's lives and I believe Bird Society of Singapore will continue to help and inspire birders and future birders for years to come. All the best for the road ahead!!
Philip Khew on behalf of the Malaysia Natural Farming Association: Congratulations!
Mark Ng on behalf of the Wild Bird Club of Malaysia: Best wishes for the society.
Evan: Birds are one of the reptiles of all time. Thank you for taking care of them.
TMG: Congratulations Bird Society of Singapore for your official launch and best wishes for continuous success!
Kuan Xin: Hey, you guys have the most accessible and well documented repository of birds in Singapore. I have learned a lot of from this website. Thanks very much!
Moses Tang: The formation of the Bird Society of Singapore spells a new chapter and up the ante of birding in Singapore. Thank you guys!
Daryl Yeo on behalf of the Nature Photographic Society of Singapore: Congrats on the launch of Bird Society of Singapore! Looking forward to the many exciting events lined up!
Julia: Congrats Bird Society of Singapore for your official launch! When I first started my birding hobby, the database helped me a lot with learning more about the local birds. All the best and looking forward to the exciting events ahead!